How To Measure Your Frame Size
When selecting new eyeglasses, it is best to note down the frame size from your old pair of prescription glasses if they fit well on your face.
Knowing the measurements of your current glasses will help find the perfect fit for your next pair.
Reading Your Current Frame Size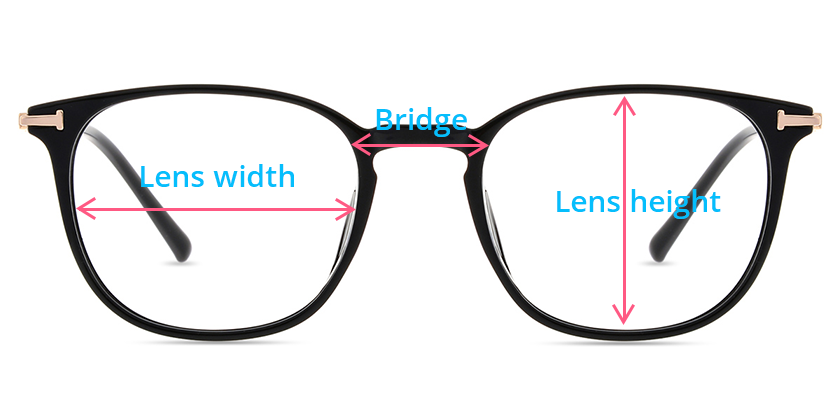 FRAME WIDTH

the entire horizontal front of the frame, from the furthest extended point on either side.

Eye size (Lens Width)

the horizontal width of each lens at its widest point. It typically ranges from 40mm to 60mm.

Bridge Width

the distance between two lenses, from the edge of one lens to the other. It ranges from 14mm to 24mm.
Temple (Arm) Length

the length of the temple from top of the bend to its temple tip, including the bend that sits on your ear. The temple is typically 120mm to 150mm long.

Lens Height

the vertical height of your eyeglass lenses at the widest point of the lens within the frame.For bifocal or progressive prescriptions, the lens height must be at least 30 mm.
Pick Your Frame Size
Discover which eyeglass frames look best on you by checking out our full collection of prescription frames for men&women. We offer 30 days money back guarantee and 365 days quality warranty.

Shop all eyeglasses >>